Movie theatre prices are at an all-time high! You pay for tickets, popcorn, drinks, gas and more. By the time you leave, your wallet might be empty! Now you can get an awesome movie theatre experience at home!
FEATURES 
💡 Bright & Vibrant: 1000 Lumens, accurate colors, rich contrast with deep blacks and bright whites, even in rooms which aren't completely dark
🔌  Fully Compatible: Our device can plug into your laptop, Roku, Apple TV, Amazon Fire, iPhone or video game console with an HDMI or USB cable. For best video play and resolution, we recommend HDMI. For use with an iPhone or mobile phone, simply use a lightning to HDMI cable.
🎬 True Theater Experience: Screen Ratio 4:3 with HD definition. The projector supports a resolution up to 1920 x 1080 quality with a wall display of 36-72 inches.
🔈 Built-In Speaker: Internal sound can be used or external audio source, such as a sound bar or speakers
YOUR IMAGINATION IS THE LIMIT
The Mini Pocket Projector is a complete home entertainment system with an upgraded LED technology that displays clear and sharp images while putting less stress on the eyes than a standard back-light screen. Its compact form factor allows you to carry it everywhere you go. 
IN THE COMFORT OF YOUR OWN BED

LEVEL UP YOUR MOVIE NIGHTS

OUTDOOR CAMPING TRIPS

KEEP KIDS ENTERTAINED

PERFECT FOR TRAVEL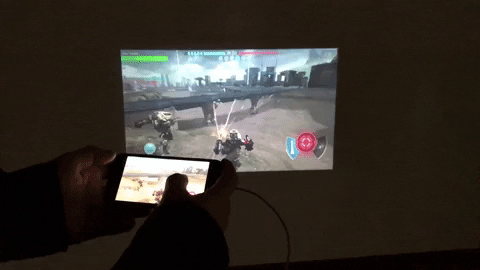 YOUR PACKAGE INCLUDES
1x Projector

1x Power Adaptor

1x 3.5mm to RCA AV cable

1x Remote Control

1x User Manual